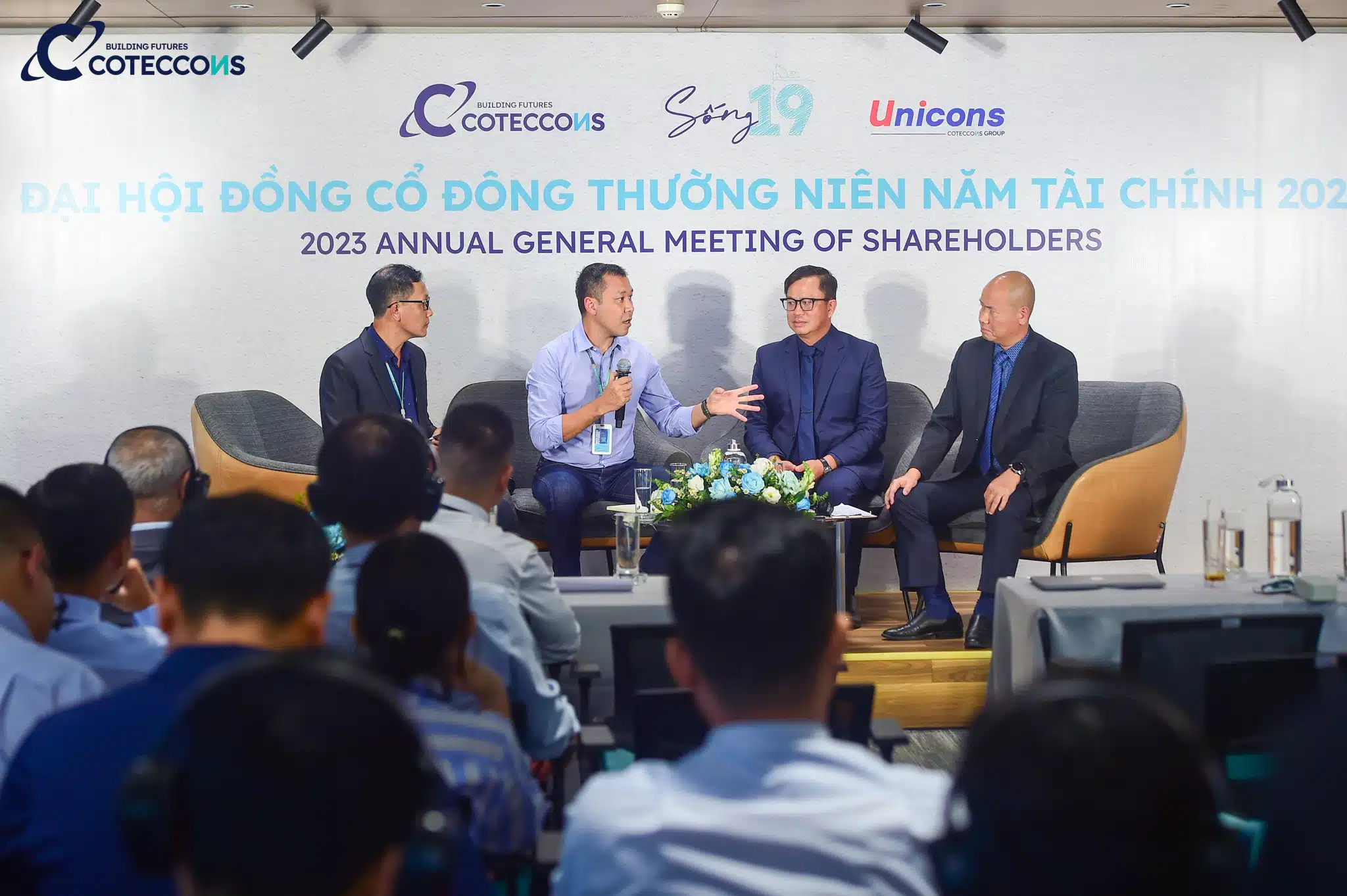 "In general, the market has not had many clear developments in the real estate sector, even in big cities such as Ho Chi Minh City and Hanoi. Only a few new investment projects are licensed. Therefore, our reports also show caution, considering market trends to make revenue and profit forecasts." This was the first comment of Mr. Bolat Duisenov – Chairman of the Board of Directors of Coteccons Construction Joint Stock Company (CTD) at the 2023 Annual General Meeting of Shareholders that took place on the afternoon of October 17.
For the year of 2023, Coteccons expects revenue to reach 6,744 billion VND, consolidated profit after tax to reach 52 billion VND. Meanwhile, in the 2024 fiscal year (from July 1, 2023 – June 30, 2024), Vietnam's No. 1 Construction Group sets revenue and profit after tax targets of VND 17,793 billion and VND 274 billion, respectively. billions dong. However, according to the "captain" of Coteccons, the business still has certain strengths, with much better results than other companies in the same industry.
Mr. Bolat also emphasized Coteccons' spirit of transparency and willingness to meet and answer any questions from shareholders.
We failed but not defeated!
Coteccons aims to participate in the fields of infrastructure and renewable energy. While there are many works and projects in this field, Coteccons is still only a spectator. The goal of reaching 3 billion USD in revenue and 1 billion USD in market capitalization by 2025 is just an empty slogan. So can the Chairman of the Board of Directors demonstrate the ability to plan and pursue the set goals? How many more years do the above goals need to last to become a reality?
Mr. Bolat Duisenov: Yes, we will. Coteccons can achieve revenue of 3 billion USD. It may take longer to reach this goal, but we will get there.
We have no choice but to grow. Coteccons is a part of society, a part of the economy. We are creating values, serving the needs of society, and supporting the Government to achieve socio-economic growth goals in Vietnam.
Vietnam will have many changes in the coming years. Where will we stand in that change? We still have a lot of work to do in Vietnam, there are many projects to be implemented. The construction and real estate industries are expected to grow further, expected to reach 40%. Foreign investment capital is still pouring into Vietnam.  
Coteccons is currently building its internal capacity, preparing its motivation to join the playing field. Long Thanh Airport is a huge opportunity that we did not get for ourselves. However, Long Thanh Airport is just one of many projects that Vietnam will have. When we don't win the bid, do we go home bored and do nothing? We will continue to try and look for other opportunities.
Mr. Vo Hoang Lam – CEO of Coteccons:  Public investment projects and infrastructure projects are mostly very large projects, have very high value and most importantly bring value to society for many years. Thus, contributing and participating in the construction of these projects not only brings value to businesses but also brings value to the country.
Coteccons is very passionate about infrastructure projects and public investment. However, to be honest, in this field, there are many different approaches. There are methods that Coteccons approaches that are not appropriate and need to be adjusted and learned more in the future. Currently, Coteccons is approaching the status of an international general contractor, presenting the best construction method with the best price to the investor and related units. In the near future, we will continue to persevere to research and make a suitable proposal so that investors can have the best choice. I believe that opportunities will come to Coteccons in the very near future.
Mr. Bolat Duisenov: Recently, we had a discussion with another bidding consortium from China and asked to evaluate the quality of Coteccons' bidding package. I can confirm that the quality of the bidding packages that Coteccons did in those months was very good and is growing stronger day by day. Colleagues and other joint ventures recognize that we have done very well. The Company also currently has a systematic process of learning from experience. After every success or failure, we analyze and research what we did well, what we did not well, and what we should not have done. And now we have an encyclopedia of successes and failures. That approach will help the Company become better and better, and our capabilities will become stronger and stronger.  
Does Coteccons plan to expand its work as a construction contractor in public investment projects in the coming time? After losing the bid for Long Thanh airport, what activities did Coteccons do to compensate, utilize resources and prepare for other projects, while ensuring growth like the winning scenario?
Mr. Bolat Duisenov: Once again, I want to emphasize that we are humble but very stubborn people. We may fail but we are not defeated. We always face challenges, maybe challenges will make us falter but we will never give up. Failure is very normal in life and business. The question is, do we let a failure affect our spirit? No!
Of course, when we did not win the bid, we might feel sad, disappointed and felt that we had put in a lot of effort and failed to achieve it. However, that effort was not wasted. We have lessons, experiences, and resources for the next projects.
Long Thanh Airport is just one key project in Vietnam's entire upcoming development roadmap. There will be many larger public and infrastructure investment projects like this. We see that market share and market is still very large for Coteccons. If you look at the business plan, the Long Thanh Airport package only accounts for a small portion of Coteccons' entire business plan. Therefore, because they did not win the bid for Long Thanh Airport, the assessment that it will affect the entire future of Coteccons is an emotional, unfair and unreasonable assessment. The future of a construction company cannot be decided by a bidding project. We have a plan, sometimes the plan doesn't go as we expected. That means we need to adjust and adapt, not give up or stop.
Is Coteccons going to join any infrastructure projects? What is the profit margin for this segment?
Mr. Vo Hoang Lam:  The infrastructure segment includes not only highways, roads, airports, Metro lines but also many other component projects. Most public projects are infrastructure projects. Profit margin is difficult to share related to bidding. We hope shareholders will understand.
Mr. Bolat Duisenov: We have strengthened the Coteccons team, improving our operating capacity. Now, in the construction market with both large domestic and international customers, we are quite confident.
Our next step is to find our place in the infrastructure segment. The results may take another 6-18 months and we will certainly be successful in this area because we have a roadmap and are ready in terms of capacity. Whether we can go fast or not depends on the overall development of the economy. Just because we won't win a project doesn't mean we'll stop. The government also has plans to develop social housing projects; we will also find ways to approach. Besides, there is great potential in the energy sector, we are ready to be a construction contractor for renewable energy projects.
Coteccons does not bet its future on luck. We have a roadmap and we don't always succeed. We may take a few steps forward, we may have to take a few steps back, but we will continue.
• There are rumors that Coteccons won the bid for Foxconn's factory in Bac Giang. The company please confirm this rumor. If so, does Coteccons have a construction strategy for the entire Foxconn chain? What strategy does the company have to win FDI projects and what are Coteccons' prospects in this segment?
Mr. Vo Hoang Lam: I can confirm that we are constructing Foxconn projects in Bac Giang. Foxconn is a potential investor of Coteccons.
The most important thing for an investor when entering the Vietnamese market is the level of transparency. Coteccons builds a system based on transparency, ethics, anti-corruption, etc. All of these are similar to FDI investors. The first issue is that our system must be similar in culture, ethics, and sustainable development foundation to theirs. The second problem is Coteccons' capacity team.
In addition to creating resources for us, FDI projects also bring great value when foreign investors are highly qualified, have high requirements, and have a transparent management system, helping us improve our administration capacity. We believe that when we carry out many of these projects, our thinking will be similar to the world, helping to elevate the Company. 
What percentage of Coteccons' backlog is expected to be accounted for by the industrial segment in the near future? What is the profit margin of this segment?
Mr. Tran Van Lam – CEO of Unicons: For Unicons, industry is a potential segment in Vietnam. FDI investors have good and stable cash flow. In their development strategy, Unicons and Coteccons always have a department to focus on the right wave of FDI investment.
Coteccons' backlogs structure is currently having a huge shift in the FDI segment, last year it was only 14% but in the first 6 months of 2023 it has increased to 21%. You already know that the Lego project in Binh Duong is very famous and classy, and will go into operation in 2024.
FDI is hoped be a large source of revenue and a large market for Vietnam's construction industry.
Diversification is the focus
What strategy does Coteccons have to exploit the financial resources and maximize its core competency of construction activities? How will projects like Emerald 68 be replicated in the future? How much profit will partnerships outside the construction industry contribute to Coteccons in the next 2-3 years? What plans does Coteccons have for its overseas development strategy?
Mr. Bolat Duisenov: I still often receive questions like those raised by shareholders. In the past, I personally received a lot of criticism and very harsh comments from shareholders. However, the contributions, messages, and messages I have received recently have changed, there has been a lot of encouragement instead of criticism.
From a high-level perspective of running the company, we are solving three big problems: how to make Coteccons always the number 1 choice of customers, how to make Coteccons a place to gather top talents and how to diversify revenue sources.
During the Covid-19 pandemic, we had to close and stop construction of many projects. I keep thinking, what if another pandemic or a crisis similar to Covid happens? In the first 9 months of 2022, GDP increased by nearly 9%. In 2023, the first 9 months of the year, GDP will only increase by 4.2%. We cannot change that, so we must always focus on our own internal strength. Diversifying the business model is a must. However, the results will not come immediately. We need time to ripen, it is not a sweet fruit that we can pick right away.
We always focus on the most important goals, promoting top priorities in construction quality and technical capacity. Coteccons always completes projects on time, those are the strengths of the Company. We will always hand over and execute projects of any difficulty. We demonstrate to domestic and international customers our capabilities and techniques. Coteccons has been invited to bid on all major projects recently.
There are no current projects that pose technical difficulties to Coteccons. Currently, Coteccons has a very "healthy" customer portfolio with good cash flow and a more effective and healthier collection mechanism for projects. There were times when we encountered difficulties, cash flow was negative by thousands of billions of dong because of difficulties in debt collection, because customers did not pay on time.
But with the strategies that have been implemented, with a portfolio of customers with strong financial potential and a more effective way of working together, the results obtained have been much better than before.
With the mission of diversification, we have initiatives, launching new projects to test and explore. Of course, not all experiments are successful, but we are not discouraged. In Coteccons' dictionary now there are two main keywords: We are humble but very stubborn. We are resilient but do not give up. We may fail, we may not always succeed, we may not win every match, but every match we win, we will definitely give our customers the best quality.
Meanwhile, with the goal of building Coteccons into a good working environment and attracting talented people, we want each person, from employees to management, to always think about serving customers and supporting colleagues. For example, the program "PD empowerment", sounds like a big term, but we have gone through difficulties and challenges in implementing it, from which we have learned experiences and do better and better.
There is a rumor about the recent increase in the number of employees quitting their jobs at Coteccons. Is this relevant to the company's remuneration and talent retention policy?

 
Mr. Vo Hoang Lam: The real estate market and the external construction market are going through many difficulties. Many businesses in the market have to implement different measures to ensure operating costs and employees. The people working in the company are the best personnel who want to contribute to development.
During the Covid period, we did not lay off employees, did not implement a layoff policy, even mid-level and lower personnel still maintained their salary or many other policies. Through that story, everyone can see that Coteccons' policy of treating and dealing with employees is so that all employees have the best working environment.
I think that increasing or decreasing personnel in a construction company, for Coteccons, does not have much to do with remuneration but rather the fact that we are proactively building all policies to attract good personnel to work for the company, to continue to contribute quality products to society.
Please share your plans to expand into foreign markets, specifically which countries? What competitive advantage does the company have compared to contractors in the host country? Are the workers foreigners or Vietnamese? At that time, will Coteccons receive any tax and policy incentives? Does the company have the advantage of accessing raw materials at lower costs in Vietnam?
Mr. Bolat Duisenov: The problem for Coteccons is how to raise the quality level to international standards. Currently, looking at Coteccons' standards, we are close to international companies. We will take the next steps to bring the capacity, value, and standards of construction engineers at Coteccons to the world.
One of our domestic customers has gone international, approach three countries at once. We can completely think that large customers who have assigned domestic projects to Coteccons can also assign foreign projects to us. Because we speak the same language, understand each other and know each other's desires. We are currently unable to share anything beyond what is allowed because a lot of information is still under negotiation and is confidential, so the information is still sensitive.
There are customers who have told us that when they expand their markets and plan to build projects abroad, they really want Coteccons to go with them. We currently do not dare to reveal anything too specific. We also do not wait for customers to bring Coteccons to the world with them, we have taken steps to learn and explore the international market. In the next 4-6 months, maybe we will share more clearly and specifically.
Mr. Vo Hoang Lam: Regarding foreign markets, many Vietnamese construction companies have tried it in the past but may not have been successful. However, Coteccons' way of doing things can become a wave for the future if we do it right.
When I went to Singapore, to the supplier's office, they were very small but sold all over the world. In Hong Kong, Singapore, etc., selling to the world is very normal. However, in Vietnam, a business exporting goods abroad is a very big deal. Maybe because the Vietnamese market has been closed for a long time, selling to the world is a bit strange, especially for the construction industry.
I personally went to Laos and work for an investor in France. The investor is very satisfied with these projects. Coteccons' experience is not inferior to any company in the world. With the advice of relevant partners, we can create any project.
Please share about the Ngoc Luc Emerald 68 project that Coteccons is working with investor Le Phong, about how to deploy and what benefits Coteccons brings to investors and customers?
Mr. Tran Van Lam: The Emerald 68 project in which Coteccons participates as a co-investor, Unicons is the main contractor. This is a project that is more like a hotel apartment than a normal apartment, with full amenities such as swimming pool, golf course, etc. The manager in charge of this project is a very hard-working employee of Unicons, who has worked on the project. VinUni – a product of Unicons.
Regarding the progress and quality of this project, customers and shareholders can be completely assured.
Mr. Bolat Duisenov: Coteccons is famous for its high-rise, high-end, and very high-quality projects. We want to bring convenience and aesthetics to the middle class with a good average income and they can enjoy beautiful design and the best amenities. This is the first real estate project that Coteccons provides additional support to its investors from the perspective of co-investors in the project.
Our point of view is to bring the opportunity to experience high quality construction along with amenities and aesthetic values for many different classes. The location of this project is also very favorable. Overall, this was a very logical step for us. Major construction companies in the world have implemented projects with strategic partners who are real estate developers.
Unicons difference – The best way to build a brand is to start from one person to another
Does Unicons intend to IPO or not? What are Unicons' strengths compared to its competitors?
Mr. Tran Van Lam: Unicons' development strategy has many steps; IPO is one of them. However, I cannot share the details right away.
Regarding the Company's strengths, just look at the projects we are implementing across all parts of Vietnam such as Tesa, Doji, Lego, Ecopark,… That is how everyone can see the company's strengths. Unicons' operating capacity.
I think the best way to build a brand is to start with each individual. We are doing so. Building a different, free culture with a different business model is what makes us different from the rest of the companies in the market.
We never think and compare ourselves with other companies, but at Unicons there is a question that every worker, officer, manager, and leader always asks together at the meeting: Where does Unicons want to go in 5 years, 10 years, 20 years, 100 years from now? What to become in this world? That is the question that Unicons people often ask each other.
Mr. Tran Ngoc Hai was the PM of Landmark 81. Currently, he is the Managing Director of the commercial sector. Please tell us the company's strategy in managing raw materials and supplies in the near future to improve the company's gross profit?
Mr. Tran Ngoc Hai:
Regarding construction materials management, my commercial team has built a chain of domestic and foreign suppliers and subcontractors, accompanying Coteccons and Unicons in bidding for projects. Big with the win-win principle. We can use our financial strength to support our partners, thereby having the best unit price, best bid and best profit margin. In the past and now, we always keep that culture of transparency and integrity, not giving or receiving contracts emotionally. Coteccons' people from past to present, generations have passed on such culture to each other.
Mr. Bolat Duisenov: Talking about the supply chain, I see great value from improving and optimizing the supply chain. Currently, Coteccons has a more effective selection process, optimizing the ecosystem of subcontractors and suppliers. They can ensure the timely provision of technology solutions and materials to accompany us, ensuring quality and progress.
In the next 9 – 10 months, I think it will be clear that optimizing and improving this supply chain will have a positive impact, clearly improving the Company's revenue and profits. We also want to welcome subcontractors and suppliers who can provide a team of quality and committed construction workers and construction workers. We want to work with subcontractors and suppliers that are solution-oriented and have a win-win mindset. We need them to understand that Coteccons itself is improving and doing better every day and we also expect them to do the same. That is the foundation and main working principle of the commercial team.
Coteccons does not want to become a trading company with the most efficient capital costs, nor do we force prices on subcontractors and suppliers. We want together to have the best solutions and quality for our projects. 
The mindset of Coteccons and Unicons: Like-minded
Please indicate the value of the new contract. Board of Directors, please provide your perspective on the real estate construction industry in 2024?
Mr. Vo Hoang Lam: Backlog for the period 2024 – 2025 reaches over 20,000 billion VND. Regarding the real estate market, recovery in 2023 will not be as fast as expected. Many projects will be legally cleared and new urban areas will be developed, but not many projects will be strongly developed. With the current situation, we believe that the recovery will come in 2024 and our work will increase a lot based on positive signals of the market in 2024 and the coming time. I assess that the real estate market will recover very quickly.
Mr. Bolat and Mr. Lam, what are your after 2 hours of AGM?
Mr. Bolat Duisenov: We accept all shareholder questions because we always promote transparency. We may not be the best management board in the world, but we are confident that the current board of directors is the most suitable board of directors for Coteccons at this time. The company does not need a great will but also needs a very clear roadmap.
About my current state of mind, first of all I'm very happy. I searched for like-minded people. Colleagues and employees are united in spirit. We are truly on a journey together. Looking back in a few years, we will have a completely different roadmap and path, and will not face the same challenges and difficulties as we do now. We are going through this challenge together. This makes a difference. Outstanding, high-capacity companies are companies that have had to go through challenges to mold and forge
Mr. Vo Hoang Lam: Shareholders' questions bring us closer together. We understand shareholders' expectations, look back at the management system, and see the warmth and companionship. Coteccons has just celebrated its 19th anniversary. We and our shareholders wish to continue to share the same direction and build a great company in the future.