"My quarantine routine is very simple:  I wake up – and go insane, with my travel destinations limited to the kitchen, followed by a trip to the living room sofa with my laptop and phone.  If Plan A doesn't work, the alphabet goes 100+ more letters if you're in HCMC at this moment.  Then I become a driver, porter and shipper on the weekends."
Within the past four months, the Corona virus has completely changed our way of life.  The concepts of normality, regular life in public places, social relations, partners, families, etc., are all upside down and are having unprecedented effects on everyone.
Regardless of one's individual circumstances, most of our time is spent working.  Therefore, online meetings have gradually replaced the face-to-face discussions and in-person conversations of the past.  Many construction projects had to be suspended, and some employees unfortunately got infected.  There are fuzzy reports with solid figures that foresee an uncertain future, which drew my attention.  In particular, over the past few weeks, I have begun to notice a significant increase in the number of condolence emails.  They help to remind me of how precious our lives are.  My deepest condolences are sent to Coteccons members who have experienced this terrible moment.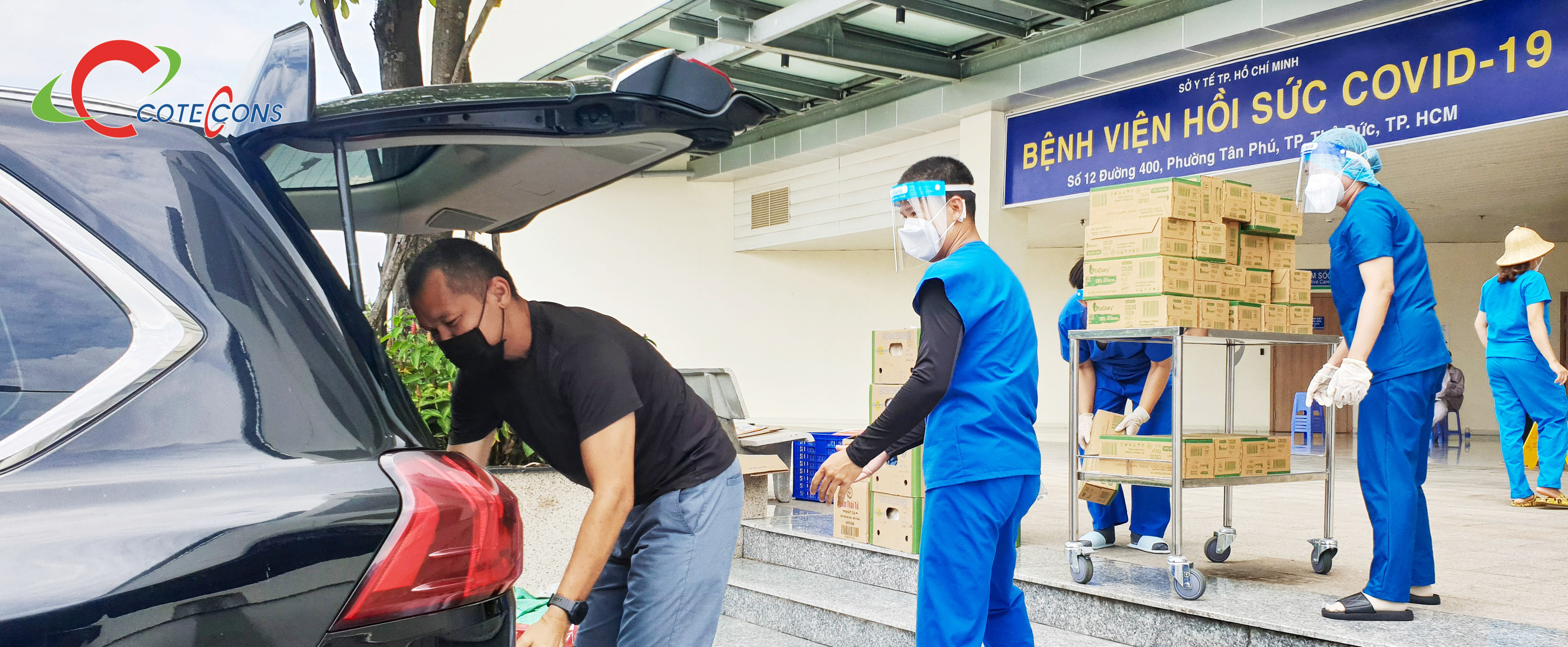 My dearest Cotecconers,
If we look at things from a different perspective, we can consider the epidemic a "test" that can make Coteccons stronger!
Adversity has forced us to quickly and productively find creative and digital solutions to our problems.  Diversification creates new construction and investments in other areas such as EPC, infrastructure, data centers, schools, social accommodation, etc.  This creates a harmonious and sustainable ecosystem for Coteccons, when a single direction is stayed independently, when the real estate market is not available to occupy us.  Diversification in technology also contributes to create more value for life and to preserve and protect the depleted resources of the planet.
At the same time, adversity also brings us closer together.  Any individual is a cell in a body, and the maximum strength of a group depends on the smallest link in the chain.  I have also witnessed a lot of sharing and helping activities, supporting colleagues who have had a hard time during the social distancing, both physically and emotionally.  In other aspects, I felt for the first time the sparkling joy on the faces of the underprivileged when holding a pack of instant noodles and milk cartons.
We are living in the "New-Normal" era, accepting and adapting to "living with" COVID-19.  Having the opportunity to talk with friends and partners from many recovered economies such as Russia, Kazakhstan, or certain European countries, I am feeling their recovery rhythm stronger than ever.  The real stories of their response and recovery are an example for us to learn from.  Instead of struggling with difficulties, let's see the world from a different angle, and be well prepared and confident for every possible situation.
There is a great message I would like to send to you all:  Coteccons is still in good shape financially, and we have been getting many positive signals from customers lately.  To cite one specific example, we had a 90% chance of losing a tender for a project to a competitor.  However, in the end, the client selected us as their contractor.  Besides, other previous clients have been reconnecting to come back as our partners.  Our future results will of course depend on how the epidemic develops from here.  So, what do we need to do going forward?  First, the financial losses must be minimized while most of our works are stopped.  We should also focus on training and review the structure and construction methods; prevent the spread of the virus in buildings and offices; and accelerate vaccination for employees and subcontractors.  This thread would run through from beginning to end to quickly return us to our game.
In the coming time, the regulations to ensure safety at our projects will be even more rigorously implemented.  Therefore, I urge all of you to strictly follow the company's regulations on safety.  The Board of Directors will continuously monitor the situation to make timely corrections and updates if necessary.
Coteccons represents a young class full of aspirations and hope.  One of our missions is to build dreams with optimism, commitment, and enthusiasm.  Together, I strongly believe that the Coteccons One team will build our own future.  Every misfortune that the pandemic brings should be considered a test for each of us to strengthen our ability to become more resilient!
Bolat Duisenov 
Chairman of The Board.