On August 6, a 2,000-person race in Quang Binh used old scaffolding, recycled materials for awards and running clothes, and planted trees for every 5 kilometers participants finished.
The Coteccons Quang Binh Marathon 2022 breathes new life into the green construction industry. It recycles 4,000 pieces of old scaffolding from the construction site to create a welcoming gate, banner, and stage. According to the organizers' spokesman, this idea derives from a desire to develop a green running marathon that minimizes environmental damage while providing a fresh experience for competitors.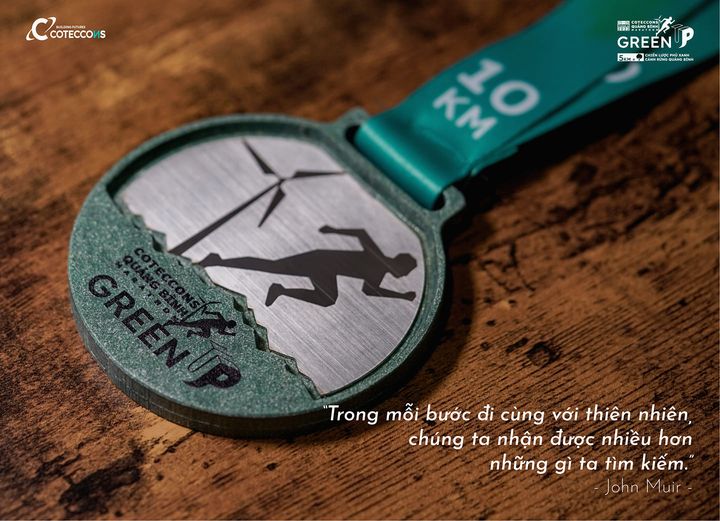 Created from 400 kg of recycled materials (straws, milk cartons, plastic cups/caps…) gathered and fabricated utilizing sophisticated technology by Coteccons and Plastic People, the event medals also offer a green message. Mr. Bolat Duisenov, Coteccons Chairman, personally introduced this medal model to 2,000 competitors and stated that it is a rare item in each person's running achievement. Faslink's shirt is comprised of recycled materials from plastic bottles and shells and is manufactured in factories that fulfill GRS worldwide recycling standards to assure 100% environmental friendliness.
Prioritizing recyclable materials and recycling outdated scaffolding is simply one of many strategies to propagate the marathon's green lifestyle. The B&T wind farm was likewise chosen as the starting point. The path, which passes through 60 turbine towers, also educates runners about the importance of clean, sustainable energy.
These 60 towers can provide around 60% of the electricity usage for the entire Quang Binh province and save approximately 581,000 tons of CO2 each year. In addition, at sunset, over 100 solar lights from SolarBK illuminate the two sides of the running track, each of which can cut CO2 emissions equivalent to planting four more trees.
The marathon also includes the practice of "runners make it greener", urging runners to continue running for the environment. Coteccons will plant one extra tree for each athlete for every 5 km run, which means 10,000 new trees will be planted after the event thanks to the runners. "We need to pay greater attention to climate and environmental issues since this is an asset that must be passed down to future generations," said Mr. Bolat, Chairman of Coteccons.
Coteccons Quang Binh Marathon 2022, with the theme "Green Up," was conducted to commemorate Coteccons' 18th anniversary in Vietnam. Mr. Bolat compared the Company's nearly two-decade journey to a long-distance marathon. "Like the marathon, we have tirelessly finished many famous projects, ensuring quality and progress, and contributing to the advancement of the construction industry," Mr. Bolat added.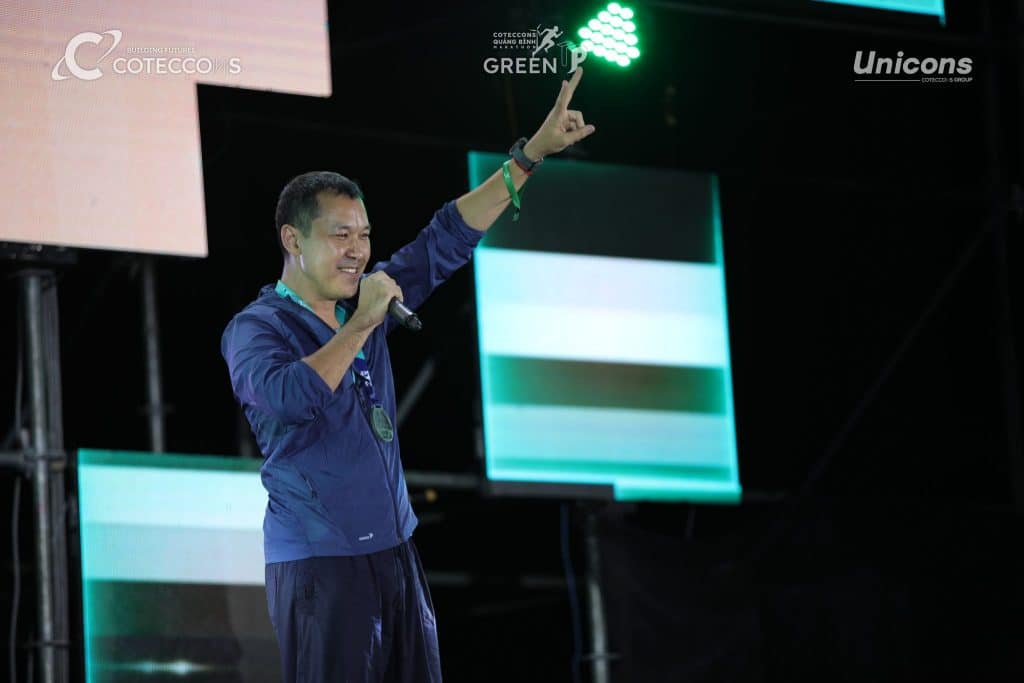 According to Coteccons' leader, the business concept and operation are analogous to a marathon of moving far and being persistent. The Company hopes to construct the future through the race by creating sustainable, hundred-year-valued buildings that are helpful to life. "The last message I want to send is to keep the runner's spirit, like a bullet aiming for the finish line with efforts from the tiniest things," stated Mr. Bolat.